Hear What Our Satisfied Customers Have to Say
Don't just take our word for it; read the glowing reviews from our valued customers about our gutters, storm damage repair, and roofing solutions. At Duque Roofing Inc., we prioritize customer satisfaction and take pride in delivering top-notch service.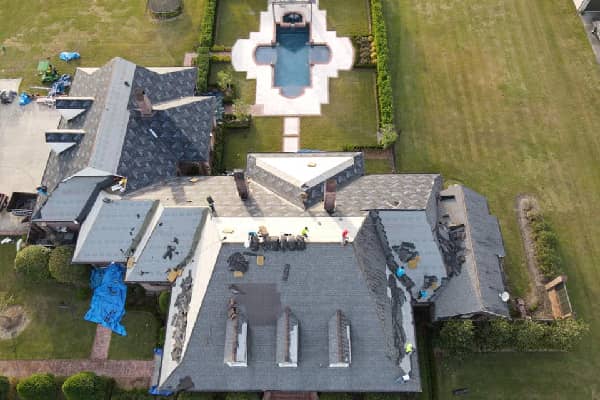 Our reviews page is a testament to the exceptional experiences our clients have had with us. From their words, you'll gain insight into the professionalism, expertise, and attention to detail that sets us apart.
Average Review Rating
Average Rating: 5
Total Reviews: 41
List Of Reviews
By:
Josh Connealy
on
Duque Roofing Inc.
Reputable Guys, quality service!
By:
Paul Mays
on
Duque Roofing Inc.
Terry and his Team do a great Job and are very professional!!!
By:
Malina Sanchez
on
Duque Roofing Inc.
Terry and his crew did a great job on our new roof! We love it! Thank you so much!
By:
Frank Jewell
on
Duque Roofing Inc.
To all,
From the first day that we discussed contracting with Duque Roofing after Hurricane Laura my wife and were treated with compassion, honesty, and professionalism.
The owner, Terry, answered all our questions and went through the quality of materials that would be used as well as the warranty.
We were presented with a pamphlet containing examples of the materials to be used along with all the warranty information.
After signing our contract, his team went to work the same day protecting our damaged roof from the elements until roof installation could begin.
During the whole process we were kept up to date about the timeline of receiving our materials, as well as the date that we could expect the job to begin and finish. We were the first house in our subdivision to have the old roof removed and our new roof installed. All timelines given were exact to the day for our job.
If we ever had a question about our work we were only a phone call or text away from an immediate answer.
The professional and courteous work done by Duque roofing, from the owner/ salespeople/ installers/ and cleanup crew was second to none in our opinion.
We feel blessed to have been introduced to the people that own and run this company; and at the completion of this project we felt like we had been dealing with friends and family.
Frank and Rhonda Jewell
By:
Lauren Savoy Morrot
on
Duque Roofing Inc.
We were happy with Duque Roofing every step in the process. Getting a fair quote was easy. Meeting with them to iron out the details and having all our quality, warranty, color, questions answered was even easier. The roof was complete 4 business days later. They made extra effort to clean the yard for debris and nails. Cody was the personable, knowledgeable , and a delight to have help us with the project. Would recommend to anyone.
By:
DeeDee Yackeyonny Jozwiak
on
Duque Roofing Inc.
Great customer service, great pricing
By:
Jeremy Bond
on
Duque Roofing Inc.
I just wanted to let my family and friends if they need an experienced licensed roofing company please call Duque Roofing. They did an excellent job, friendly and knowledgeable. Great price!
By:
Ray Pierce
on
Duque Roofing Inc.
These guys cut no corners. I've been after a good roofing company since hurricane laura, and finally got the best. Thanks guys
By:
Joe Salcedo
on
Duque Roofing Inc.
Phenomenal quick professional and quality work.
By:
Tony Granato
on
Duque Roofing Inc.
Top quality service through and through. Would recommend and would use services again.
Contact Us Today to See Why Our Clients Only Trust Duque Roofing Inc.
We invite you to explore our reviews and see why our customers trust us for all their gutter, storm damage repair and roofing needs. Join the growing list of satisfied customers an experience the excellence of Duque Roofing Inc. for yourself. Texas: (866) 512-7663 or Lousiana: !