Ensure the Integrity of Your Roof with a Timely Roof Repair
Don't wait for the next storm to hit! At Duque Roofing Inc., we specialize in prompt roof repair and replacement services. Our expert team is skilled at identifying early signs of damage or weakness that, if left unaddressed, can lead to more significant issues down the line.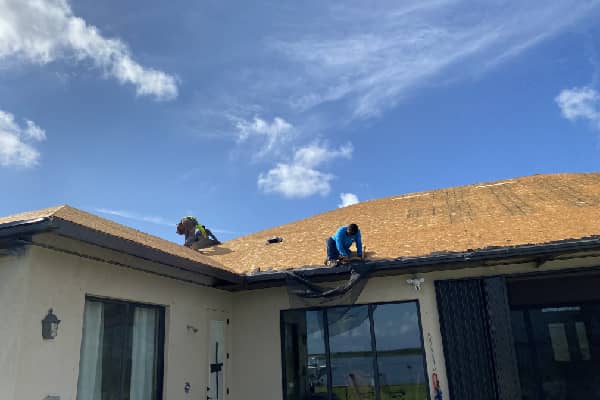 Dependable Roof Repair Services for Optimal Safety
Visual indicators like sagging, visible damage, or missing sections are often the first signs of roof problems. If you notice any of these signs, it's crucial to have your roof evaluated by Duque Roofing Inc. Taking immediate action can prevent more costly repairs and safeguard your home or office. Should repair no longer be a viable solution, our team is also well-versed in roof replacement.
Catch Roofing Issues Early to Avoid Costly Damage
A wet spot on the ceiling is typically the initial sign of roof damage. Ignoring this warning can lead to water seeping through the drywall, causing leaks during rainfall. At this stage, mold, mildew, and rot may have already started spreading within the sub-roofing, necessitating more extensive repairs.
Affordable Roof Repair Options
In our local area, average asphalt shingle roof repair costs slightly exceed the national average due to the potential for extensive water or storm damage. However, catching roof issues early can help keep repair costs reasonable, as long as there is no structural damage from saturated sub roofing. Alternatively, investing in a new metal roof can be a cost-effective solution. While materials like metal and slate may have slightly higher repair costs, they often require minimal repairs throughout their lifespan.
Discuss Your Roofing Project with Us Today
Have a roofing project in mind or need roof repair? Email us at info@duqueroofing.com to speak with our team about how we can assist you. Trust Duque Roofing Inc. to deliver reliable solutions and maintain the integrity of your roof. Trust us, too, to uphold the standards of our Owens Corning Platinum Preferred status.