Receive Your Complimentary Estimate for Seamless Gutters or Gutter Repair Today
Duque Roofing Inc. offers a diverse range of gutter colors and styles to suit your preferences. While gutters may seem straightforward, there are countless ways to incorporate them into your home or business. Whether you have a clear vision or need guidance, our team is here to assist you. Take the first step by (866) 512-7663 to schedule your free estimate.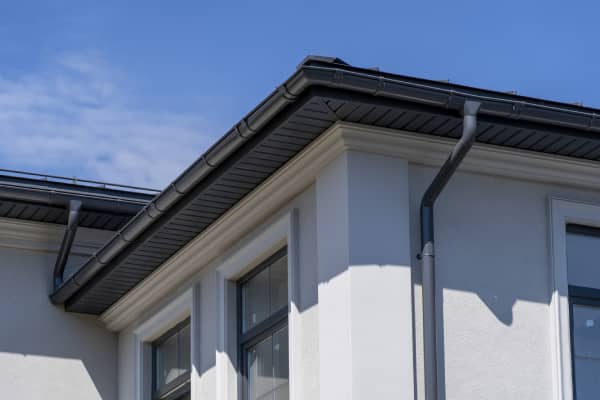 Avoid Major Costs with Gutter Repair
Huge costs regarding your gutter problems can be avoided if you maintain them regularly and perform timely gutter repair. With a small repair now, you can avoid a minor issue escalating and becoming larger. Our team of experts have the experience and knowledge, as well as tools, to fix any gutter issue.
When Is the Ideal Time to Replace Your Gutters?
The optimal moment to replace your gutters is during a roof replacement. Since we are already adjusting the shingles and roof edges, it becomes convenient to remove old gutters and install new ones. However, if you prefer to tackle gutter replacement or gutter repair as a separate project, we are fully equipped to handle that as well. Our experts will inspect the fascia for stability, ensuring it can support the gutters and safeguard your property. Reach out to us today for further information.
Safeguard Your Gutters from Clogs with Leaf Guards
Leaves, sticks, pollen, and other debris have the potential to accumulate in your gutters, leading to troublesome clogs. To prevent such blockages and the associated damage, consider investing in leaf guards. These protective layers are installed over the gutters, effectively keeping debris out of the water passage.
Resolve Your Gutter Concerns with Professional Expertise
Don't let gutter issues become a headache. Email us at Duque Roofing Inc. at info@duqueroofing.com. to enlist the assistance of our skilled professionals. Trust Duque Roofing Inc. to address your gutter needs promptly and effectively with gutter repair, replacement, or installation. We'll also deliver gutter solutions that uphold our Owens Corning Platinum Preferred status.