Services: Residential and Commercial Roofing and Gutter Solutions Tailored to Your Home
At Duque Roofing Inc., we understand that your home is your sanctuary. That's why we offer a wide range of residential roofing services to ensure the protection and beauty of your property. Whether you need a new roof installation, roof repair, or roof replacement, our experienced team will deliver exceptional craftsmanship and attention to detail. We utilize premium materials and the latest roofing techniques to provide durable and long-lasting solutions.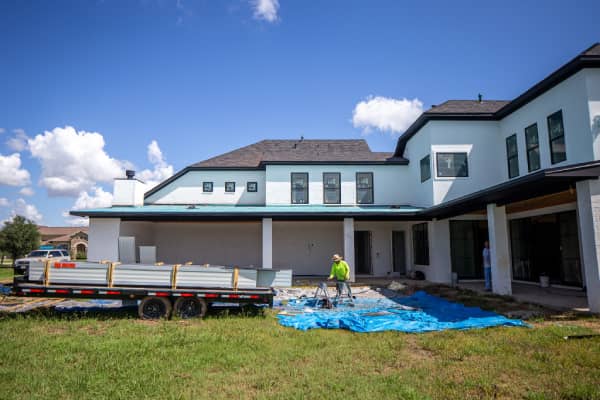 Our team also knows that your business deserves a reliable and durable roof to safeguard your investments. Duque Roofing Inc., a company that boasts an Owens Corning Platinum Preferred status specializes in commercial roofing services tailored to meet the unique requirements of your business. From flat roofs to peel-and-stick solutions, we have the expertise to handle any commercial roofing project. Our team is committed to delivering timely and efficient results that meet the highest industry standards.
Prompt and Professional Roof Repair Services
Is your roof experiencing leaks or damage? Don't wait for the problem to worsen. Duque Roofing Inc. offers prompt and professional roof repair services to address any roofing issues you may have. Our skilled technicians will assess the damage and provide effective roof repair solutions to restore the integrity of your roof. With our attention to detail and quality workmanship, we'll ensure your roof is in optimal condition.
Gutters: Protect Your Property with Proper Drainage
Properly functioning gutters are crucial for maintaining the structural integrity of your property. Duque Roofing Inc. offers gutter installation and replacement services to ensure efficient water drainage and prevent water damage. We provide a wide variety of gutter options to suit your needs and enhance the aesthetics of your home or business. Trust us to install high-quality gutters that will effectively protect your property.
Home Improvement: Enhance Your Living Space
In addition to our roofing services, Duque Roofing Inc. offers home improvement solutions to enhance your living space. Whether you're looking to upgrade your siding, improve your insulation, or enhance your energy efficiency, our team has the expertise to deliver exceptional results. We pride ourselves on our attention to detail and commitment to customer satisfaction.
Contact Us for Roof Repair, Installations, Gutters, Hurricane Relief, Veteran Support, and More
Trust the professionals at (866) 512-7663 for all your roofing needs. Call us today to schedule a consultation or learn more about our services. You can also reach us via email at info@duqueroofing.com. We look forward to serving you with our exceptional roofing solutions.