Areas We Serve: Find a Roofing Contractor in Your Area
Duque Roofing Inc. proudly serves nationwide, with a focus on:
Texas, Louisiana, Arkansas, Colorado, Mississippi, Alabama, and Florida
Rosenberg, TX: As our headquarters just outside of Houston, TX, we provide comprehensive roofing services to the entire Rosenberg area, including both residential and commercial properties. Our team is well-acquainted with the roofing needs of Rosenberg and its surrounding areas. We are committed to delivering top-quality roofing solutions to homeowners and businesses in this community.
Austin, Round Rock, and Georgetown, TX: We are here to server this beautiful area of Texas, often hit with hail and major storms. We are here to serve you!
Greatwood Neighborhood: With our expertise in roofing, we cater to the roofing requirements of the Greatwood neighborhood and ensure that residents and businesses can rely on us for reliable and efficient roofing services.
West Columbia, TX: Duque Roofing Inc. extends its services to West Columbia, offering professional roofing solutions that are tailored to the unique needs of this vibrant community.
Galveston, TX: We understand the roofing challenges faced by residents and businesses in Galveston and we are dedicated to providing effective and long-lasting roofing solutions to protect their properties.
Pearland, TX: Duque Roofing Inc. is proud to serve Pearland, delivering exceptional roofing services that prioritize quality, durability, and customer satisfaction.
Mena, Arkansas: Homeowners in Mena, Fort Smith, Hot Springs, Bentonville, and all over Arkansas can trust Duque Roofing Inc. to handle their roofing needs with precision and expertise, ensuring optimal protection and aesthetics.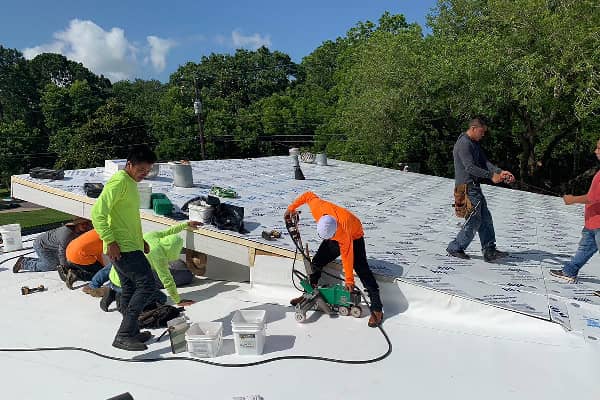 Ready For Our Roofing Expertise? Contact Us Today
We work nationwide, please email our roofing contractor team at info@duqueroofing.com, and we will be happy to discuss how we can assist you.
Local Reviews
Duque Roofing Rated 4.71 out of 5 stars based on 42 customer reviews