Hear What Our Satisfied Customers Have to Say
Don't just take our word for it; read the glowing reviews from our valued customers about our gutters, storm damage repair, and roofing solutions. At Duque Roofing Inc., we prioritize customer satisfaction and take pride in delivering top-notch service.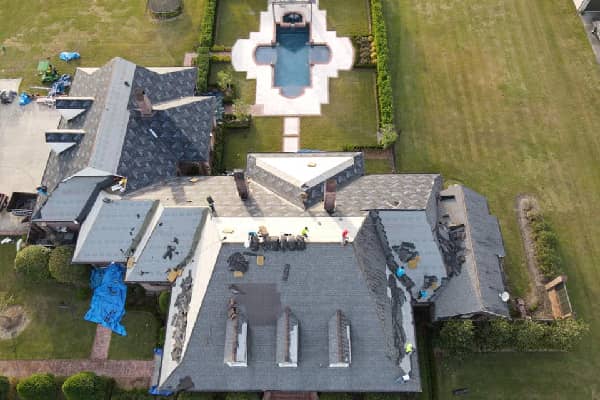 Our reviews page is a testament to the exceptional experiences our clients have had with us. From their words, you'll gain insight into the professionalism, expertise, and attention to detail that sets us apart.
Average Review Rating
Average Rating: 5
Total Reviews: 39
List Of Reviews
By:
Jimmy Adams
on
Duque Roofing Inc.
Terry, Cody, and the whole crew were awesome to work with and did everything they said they would and more. Job site was very clean and everyone was very professional. 10/10 would recommend to anyone needing roof work done!
By:
J Douglass
on
Duque Roofing Inc.
From start to finish this roof replacement has been a seamless experience with Duque Roofing. The lead representative from the company, Bennett, assured me from the first conversation I had with him that he would keep a close eye on all elements of the work - and he followed through on this commitment from helping pick out the right shingles to meeting the insurance adjuster for the inspection to ensuring all insurance claims and payments were addressed - basically serving as my advocate and interface with them. He also verified the delivery of shingles and was present the entire day of shingles being installed through clean up. I can tell this company cares about the customer and I am very happy with the new roof and the ease of interactions with Duque Roofing. I would recommend them to all family and friends with no reservation.
By:
Jo B
on
Duque Roofing Inc.
Bennett Underwood was my main contact with Duque Roofing. He was extremely professional, courteous and patiently and accurately explained every step of my proposed roof replacement. He was personally on site almost the entire day of installation. His crew worked efficiently and were also respectful and prepared. He answered or returned all my calls promptly, supplied the exact color roof I wanted, and had the installation complete and cleaned up all in one day! I would highly recommend this team led by Bennett to anyone!
By:
Tetra Platting
on
Duque Roofing Inc.
Their staff did a great job answering questions. The field crew was very professional and the new roof looks amazing.
By:
Chris Chouest
on
Duque Roofing Inc.
Shortly after Hurricane Ida caused major damage to Lafourche Parish, we were fortunate to have Beau with the Veterans division of Duque Roofing drive down from Texas while debris still on the road ways making it difficult to drive. Beau immediately got Duque Roofing with his crew of 9 to temporarily apply roof repairs until the materials arrived to professionally upgrade our roof to higher standards. Beau along with his crew completed the job in two days. The crew did an excellent job of not only the installation, but the cleanup was also excellent. Beau being a veteran took the time to console my father in law who lost his wife of 74 years. I would highly recommend Duque Roofing for your roof and gutter damage.
By:
Wendi Hale
on
Duque Roofing Inc.
Bennett & his crew were amazing! Very professional, clean, attention to detail was great. Price was very fair. We love our new roof and the color is amazing!
By:
Starr Bouldin
on
Duque Roofing Inc.
Bennett stoped by our house in Fort Myers after hurricane Ian. His crew was fast, clean and provided the top of the line Owens corning shingle. Bennett delivered everything he promised and was even on the job to ensure these promises. He was very informative about the roofing process and I would recommend Bennett and Duque roofing to all my neighbors!
By:
Shannon Morris
on
Duque Roofing Inc.
After the crazy hail storm in Central Texas, Duque Roofing was able to replace our roof. During the experience, Bennett Underwood was so helpful, personable, and informative in the process. If there is another act from God kind of weather, I would happily go with Duque Roofing again.
By:
Emileigh Hebert
on
Duque Roofing Inc.
Terry Duque and his team did a great job at getting our roof replaced following a hailstorm back in May 2023. They were there to assist with the walkthrough with our insurance carrier all the way through the finished product. The new roof looks great and will provide a lasting look and functionality for our home. Thanks Duque Roofing for a job well done and great service.
Contact Us Today to See Why Our Clients Only Trust Duque Roofing Inc.
We invite you to explore our reviews and see why our customers trust us for all their gutter, storm damage repair and roofing needs. Join the growing list of satisfied customers an experience the excellence of Duque Roofing Inc. for yourself. Texas: (866) 512-7663 or Lousiana: !